Fiona Naysmith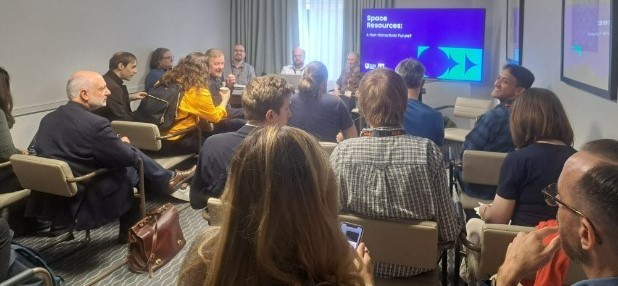 PhD student Fiona Naysmith joined two other members of the OU's Space Governance team – Dr Thomas Cheney and Dr Marjan Ajevski – on an all-OU panel on 'Space Resources: A Non-Extractavist Future?' at this year's British International Studies Association (BISA) Conference in Scotland.
This was the new Astropolitics Working Group's inaugural appearance at the well-attended three-day event. It brought together academics from all walks of international studies, by way of specialist working groups, from Gendering International Relations and Russian and Eurasian Security, to Interpretivism and Global Nuclear Order, and of course, Astropolitics from 21-23 June 2023 at the Glasgow Hilton.
The conference which asked 'What can International Studies contribute to a Summit of the Future?' produced diverse and innovative answers, alongside spacious seating for networking and a plentiful supply of coffee and pastries!
Fiona said: "Overall, the atmosphere was lively, stimulating and welcoming – a great event for all levels of conference experience, from the fledgling researcher to seasoned academics."
---
Alina Kislova (with Jessica Heddenhausen, Mingru Li and Chinedu Nevo)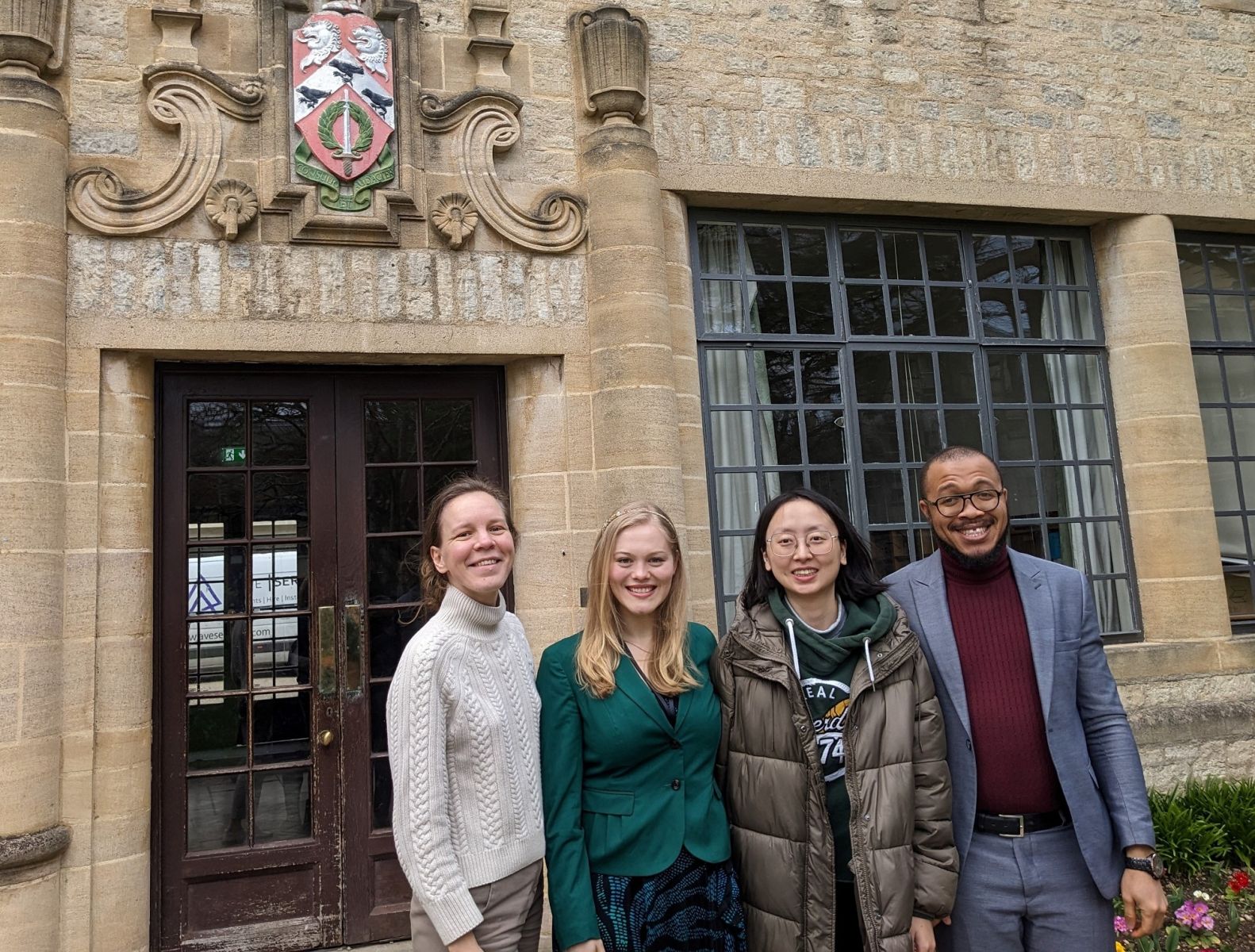 A quartet of our students – Alina Kislova, Jessica Heddenhausen, Mingru Li and Chinedu Nevo (pictured, left to right) – were at the 'Social Sciences Impact Conference: Hope into Action' at the University of Oxford's St Anne's College in March.
Although each had initially been unaware of the attendance of the others, they soon discovered each other within the close social sciences research community. So not only did the conference discuss the power of (international) research and collaboration, it also demonstrated the social sciences network in action!
Originating from Russia, Germany, China and Nigeria, the students were inspired by the host of cross-country research and international speakers (from Holland, Mexico, Spain and many more) who emphasised the importance of building impact through inclusive research and collaboration between academia, businesses and charities. For example, the University of Oxford works with the Autism Community Research Network Southampton (ACoRNS), investigating the views and experiences of marginalised autistic children and young people within education to reveal opportunities for social improvement.
The themes, 'Social Sciences Impact' and 'Hope into Action', framed discussions about the ecological impact in low and middle-income countries from the global south (such as issues of safe water), the legal impact of safeguarding children (from sexual exploitation), and the well-being impact of lifelong health and women's health in the workplace, alongside business solutions that may advance the UN's Sustainable Development Goals.
Expert panels, case studies, round table discussions, workshops and many more formats showcased the many possibilities for collaboration and knowledge transfer. A panel discussion on policy (particularly applicable to Jessica's research on sustainable farming) and follow-up networking opportunities empowered the students with tools that will transform their own research into social science impact. Even promotional booths offered access to knowledge transfer partnerships and networks such as Oxentia, a training and consultancy service specialising in social impact from knowledge exchange and commercialisation, with whom the OU has also been involved.
Following the conference, the students walked through the streets of Oxford which reminded them of famous intellectuals, books and movie scenes! They discussed opportunities for collaboration and early career development that they hope will lead to similar impacts to those witnessed at the conference.
---
Sahil Mathur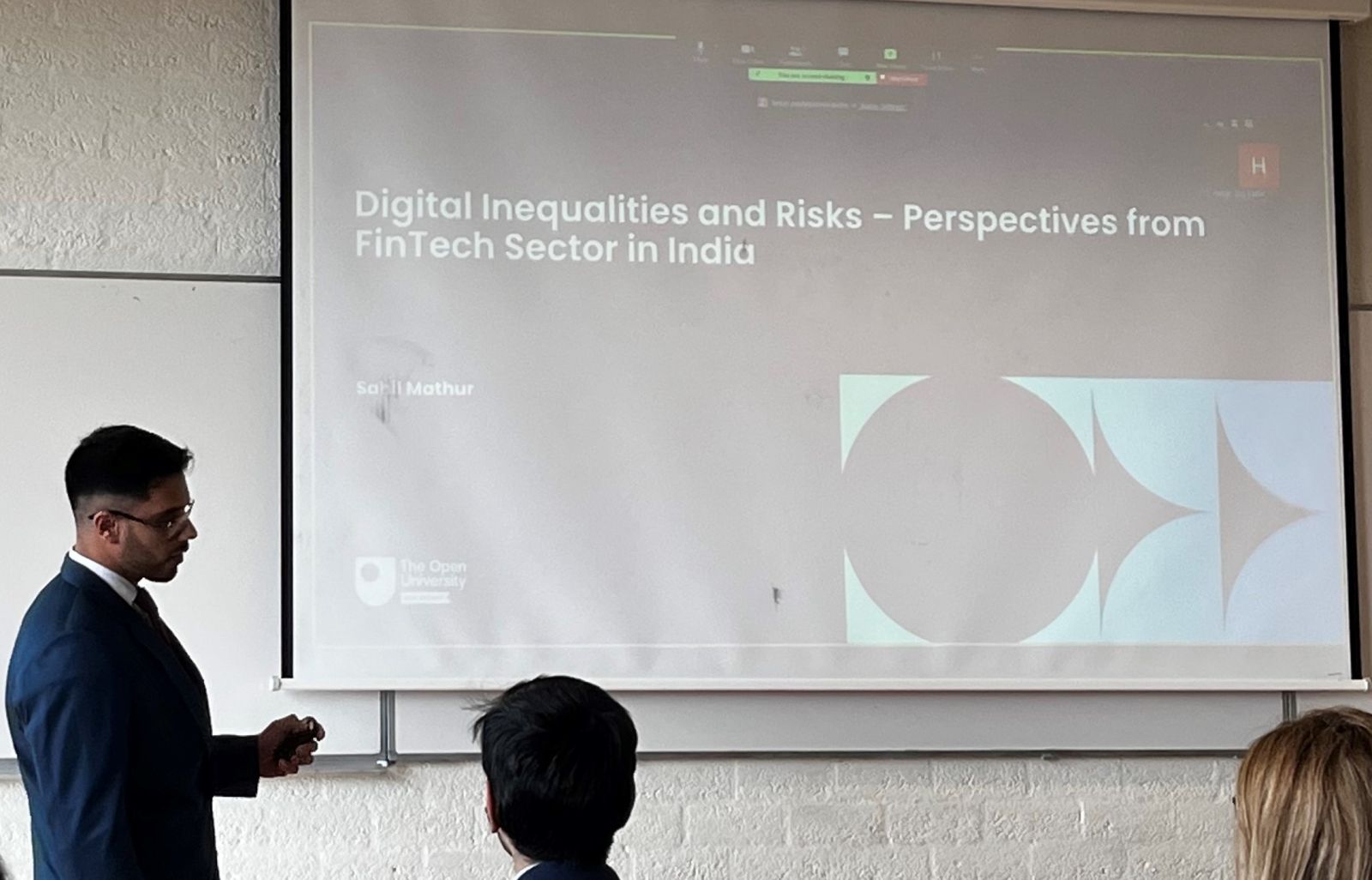 Sahil was a prize winner at the British and Irish Law Education and Technology Association (BILETA) conference in Amsterdam on Thursday 13 – Friday 14 April.
He was awarded the prestigious Taylor and Francis Prize for his paper, 'Digital Inequalities and Risks – Perspectives from the FinTech Sector in India', which included a £250 cash sum. The paper looks at how the gap between financial literacy in India and the growth of the Indian FinTech sector exposes users to various risks of FinTech. It also talks about how the existence of digital inequalities in the FinTech sector in India leads to a lack of financial inclusion.
Sahil (pictured) said: "The Taylor and Francis Prize recognises the exceptional research contributions of BILETA members and is conferred on behalf of the esteemed International Review of Law, Computers and Technology. I'm humbled by the recognition of my research efforts."
BILETA 2023 had more than 90 physical attendees, plus 40 who joined remotely, across 18 parallel sessions with engaging presentations and animated, thoughtful discussions among the attendees. Both days began with a compelling keynote address, delivered by two eminent scholars – Orly Lobel expounded on the Equality Machine, while Giovanni Sartor discussed the manifold applications of artificial intelligence in the realm of law.
---
Alina Kislova
More than 300 academics and practitioners working and researching within the area of clinical legal education worldwide come together on a biannual basis to share new developments and practices taking place in their institutions and countries.
In late 2022, this worldwide conference ('Justice Education: Building Resilience and Strong Connection in Times of Global Challenges') took place at the Faculty of Law, University of Stellenbosch, in South Africa.
As part of the programme, attendees had an opportunity to participate in various hands-on workshops, masterclasses, mock trials and many other forms of learning exchange activities. There were also social justice visits organised for participants at various local social justice actors, including Night Shelter Stellenbosch, Sustainability Institute, Township and Village Tours, Women on Farms Project and university Law Clinics.
There was also some time to visit and explore historically and biodiverse significant places, such as the Robben Island prison where Nelson Mandela was held for 18 years, the Cape of Good Hope where Atlantic and Indian oceans meet, and much more.
There are also blog posts from two of the Law School's academics – Liz Hardie and Carol Edwards – about the conference.
---