Blog post by Liz Hardie
Clinical legal education involves law students learning about the law through real or simulated cases. Often law students will provide legal advice or education to members of the public under the supervision of academics and solicitors.
The Open University established the Open Justice Centre in 2016 to provide students with the opportunity to enhance their skills and experiences to support them in the changing employment market. Students participate in voluntary projects to provide legal advice and education to organisations and members of the public. The Centre also undertakes pioneering cutting edge research to inform the curriculum and showcase technology enhanced experiential learning.

During the COVID-19 pandemic many universities moved their clinical legal education programmes online.  As institutions start to review the impact of this, there has been an increased interest in how digital technologies can expand access to legal advice and clinical legal education going forward.  The Open University as a distance learning provider has gained 6 years' experience in providing online clinical legal education opportunities to students. We took the opportunity to share this with universities across the world at a clinical legal education conference in December 2022.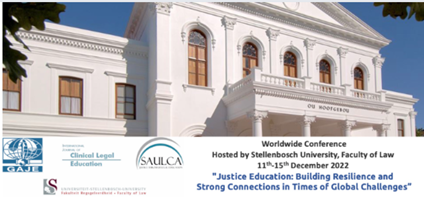 Ten members of the Law School attended the Conference on "Justice Education: Building Resilience and Strong Connections in Times of Global Challenges" which was held in Stellenbosch, South Africa. 
The conference was organised in partnership between the Global Alliance for Justice Education (GAJE), the International Journal of Clinical Legal Education, the South African University Law Clinics Association and the Faculty of Law of the University of Stellenbosch. Participants attended online and in person to discuss the current global challenges (war, health crises, climate change and economic, social and political instabilities) and their impact on education and social justice. There were interesting discussions over three days about a variety of innovative approaches and research on educational methods which promote law students' engagement, diversity and social justice.
Hugh McFaul, Head of Law School, received funding from the United Nations Office on Drugs and Crime to help deliver a regional workshop on integrity and ethics education at the University of Stellenbosch, attended by South African academics and legal professionals. He also attended the GAJE conference and led an interactive workshop with Andres Gascon-Cuenca, Professor of Law at the University of Valencia, on 'Philosophical reflections about clinical legal education: How legal education can address societal challenges'.  The workshop encouraged academics to use philosophical approaches to develop new insights and approaches to justice education. Hugh also led an interactive workshop on Justice Education and the Fight Against Corruption, based on his work consulting for the United Nations Office on Drugs and Crime on the GRACE (Global Resources for Anti-Corruption Education) initiative.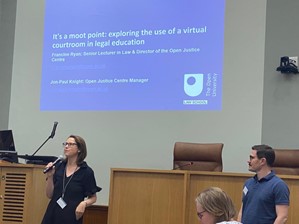 Francine Ryan, Director of the Open Justice Centre and Jon-Paul Knight, Open Justice Centre Manager were part of an interesting panel that explored virtual courtrooms and mock trials. Francine and Jon-Paul discussed the creation of their virtual reality courtroom which they are currently testing with students and members of the legal professional.
The virtual courtroom allows users to explore and learn more about a courtroom and facilitates groups of students to come together to engage in a virtual moot or mock trial. Initial testing with students has been positive, students have found the experience of using the VCR engaging and have commented that it provides a more authentic and realistic experience compared to Zoom or Teams. Francine and Jon-Paul discussed their research project with students who were involved in conducting a moot within the virtual courtroom.
Siobhan Cullen, lecturer in law, was part of the same panel and discussed with Richard Roe, retired professor of law at Georgetown university, how mock trial participation transformed the first year experience of students at the Atlantic Technical University (ATU), Donegal, Ireland. Students' cognitive, expressive and legal reasoning abilities, as well as attendance and retention in school, were significantly increased by using interactive, learner-centered methodology to prepare for and conduct a complex mock trial as a component of their regular course of study. This allowed students to create their own narrative with peers and engage their interest in the law before proceeding to other substantive law subjects.
Siobhan also spoke at the same panel with Brónagh Heverin, head of department at the Atlantic Technical University, on their experiences of setting up a Virtual Public Legal Information Clinic which created a Safe Space for the LGBTIQ+ Community. The clinic was set up in collaboration with Donegal Women's Centre and developed a virtual courtroom using the local courts service.
Emma Curryer, Head of Department and Gillian Mawdsley, Associate Lecturer, spoke at a panel about their work in developing vicarious trauma training for law students involved in the Open Justice criminal appeals clinic. 'Building Resilience for our students: The Importance of Acknowledging, Teaching and Delivering Vicarious Trauma Training in Clinical Legal Education' explored the reasons for providing vicarious trauma training and shared how this has been successfully pioneered through the Open Justice centre. 
Alina Kislova, law PhD student, presented a paper on clinical legal education as an instrument for student social mobility. This paper explored the role of clinical legal education in embedding employability skills into the curriculum, and how this can widen access to the legal profession in the UK.  Alina explored the difficulties of accessing law, especially to those from the working-class, and the role of universities in seeking to widen access to education for a greater diversity of the population.
Liz Hardie, Teaching Director and Carol Edwards, senior lecturer and Student Experience Manager, discussed the wider support of clinical legal education students in an online environment. The session explored the wider challenges faced by students and staff working online and drew upon four case studies to explore ways of providing online support. This included the development of a programme of online support to staff through staff development and social events; the Law School online peer mentoring project; the Law School Belonging project (which aims to provide informal online spaces for academics and students to promote a sense of belonging to an academic community); and the support of students carrying out pro bono work within the Open Justice Centre.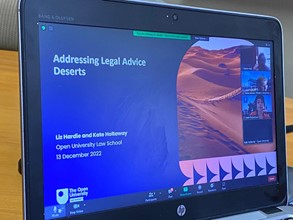 Liz Hardie also presented a paper with Kate Holtaway, lecturer in law, on ways of addressing advice deserts in the UK. Increasingly those living in certain geographic areas lack access to appropriate legal advice due to the restrictions on legal aid and the resulting closure of social welfare solicitor practices and legal advice clinics. 
The presentation drew upon Kate's experience of providing legal advice in Cornwall and Liz's experience through the Open Justice Centre of providing a legal clinic in Rawtenstall, Lancashire. They discussed the challenges faced by those living in legal advice deserts needing to seek access to justice, and the ways in which online advice and support can support these individuals. The limitations of online advice were considered including issues relating to digital poverty and a lack of digital skills. Liz and Kate suggested that a hybrid model could provide a way forward in some areas to enable individuals to seek legal advice from pro bono services.
As well as showcasing the Law School's work in clinical legal education, the conference enabled those present to learn about other projects and initiatives from universities around the world. I am sure that the ideas discussed will enrich the clinical legal education offered by the OU Law School in the future.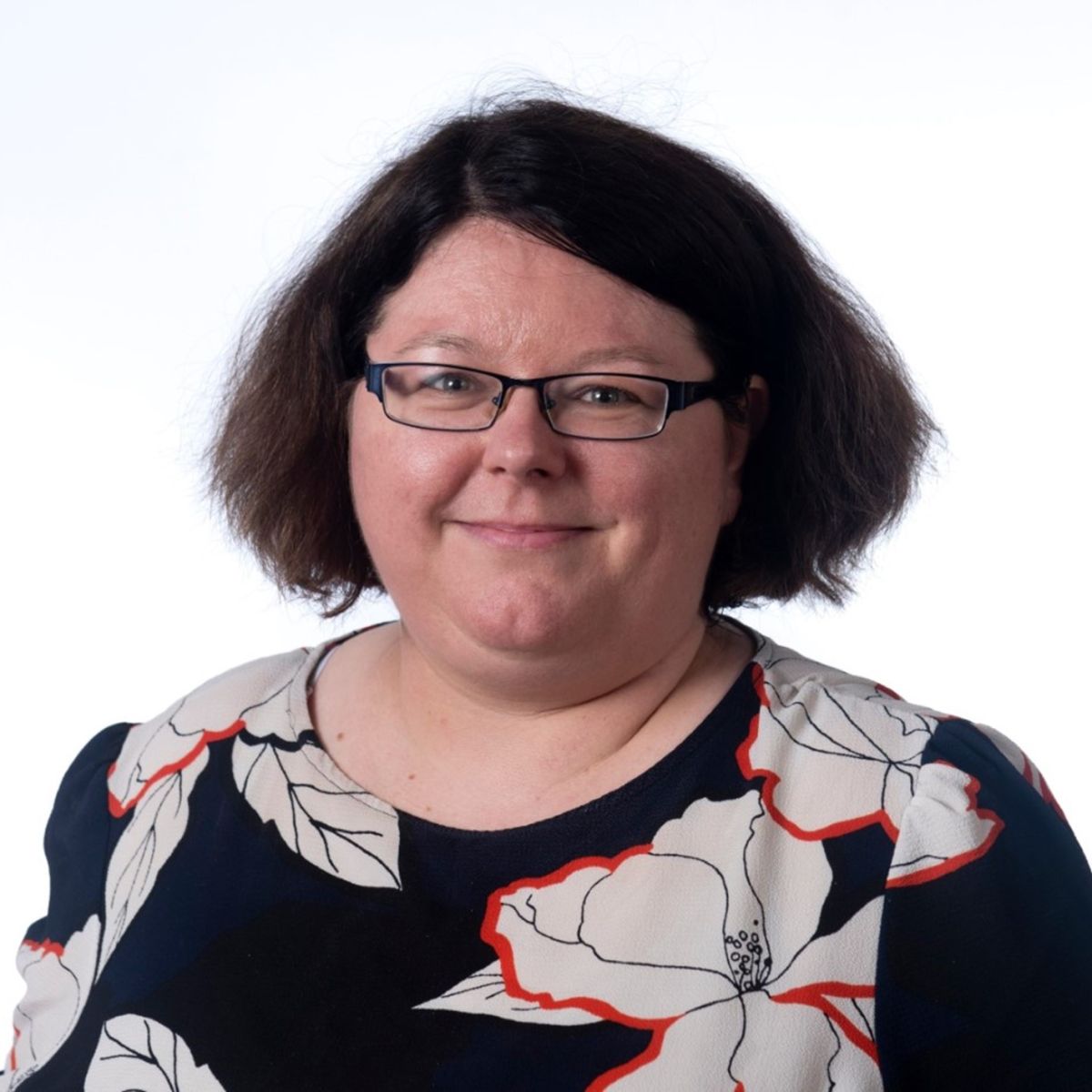 Liz is a senior lecturer-in-law and Teaching Director of the Open University Law School.  She has worked as part of the Open Justice Centre since 2016, supporting law students to carry out pro bono projects both as part of their law degree and on an extra curricular basis. 
Liz leads the Open Justice online policy clinic and mediation project and is a supervising solicitor in the online law clinic. 
She is particularly interested in online learning and the use of technology in legal education, including the moving of clinical legal education online.