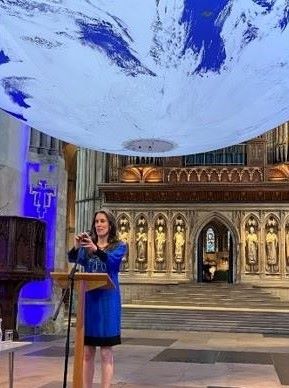 The challenge that the environmental crisis poses can sometimes feel overwhelming. There is, however, much that individuals and groups of individuals can do to make a difference.
Dr Ruth Valerio has dedicated her life to advocating for a sustainable environment and supporting others to make a difference. She is particularly interested in how religious communities can have a positive impact and support a sustainable future.
Ruth is pictured giving a presentation on sustainability under Gaia at Rochester Cathedral in 2022.
Tearfund
Ruth Valerio is the Global Advocacy and Influencing Director for Tearfund, a Christian development and advocacy organisation. Tearfund works in around 50 countries, working in some of the poorest communities in the world, tackling poverty through sustainable development, responding to disasters, and challenging injustice. Ruth has published books to support individuals and groups in their work towards a more sustainable environment. These can be found here. Her speaking engagements can be found here.
In this video Dr Ruth Valerio, Tearfund tells Jessica Giles about her advocacy work and provides some reflections on the ways in which religion and religious communities can have a positive impact on the environment. 
Although it can feel a little daunting, there are resources to better help you understand how to make a difference. You can join learn more through the Open Universities' OpenLearn resources or you can explore the Oikos network to find out what like-minded individuals are doing to make a difference.