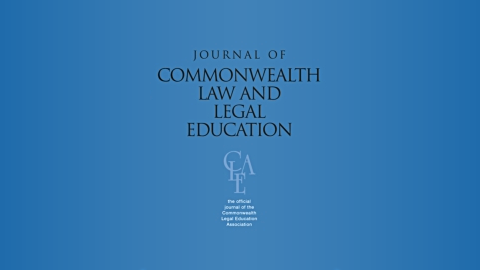 The aim of the Journal of Commonwealth Law and Legal Education (the Journal) is to foster and promote high standards of legal education in the Commonwealth. It does this by providing a platform for early career and established academics and others involved in law and legal education throughout the Commonwealth to publish their work and share scholarship, innovation and best practice on a wide variety of legal matters and themes.
It is an online, open access, peer-reviewed journal published once a year in collaboration with The Open University School of Law and is the official journal of the Commonwealth Legal Education Association (CLEA).
The history of the Journal
In 1994, the then President of the CLEA, Professor N R Menon, drew attention to the need to make legal education socially relevant and professionally useful; for law schools to prepare themselves for the demands of the profession in the context of the information revolution and other global challenges and to support continuing legal education and distance learning programmes.
In 2000, a proposal was made at a CLEA meeting in Adelaide, Australia to found a fully refereed journal devoted to law and legal education in the Commonwealth as a way of strengthening the aims of the CLEA. Given that The Open University is the world leader in supported open learning and The OU Law School has brought major innovation to legal education and made the study of law accessible to a wide range of students, it was most appropriate for the journal to find a home at The Open University's Law School.
In ordinary language a 'commonwealth' is a system involving the sharing of riches or resources. It is the purpose of this journal to create a commonwealth of knowledge, analysis and reflection on any legal matters or themes that have relevance to legal practice, legal policy and legal scholarship in Commonwealth jurisdictions.

Joint Patrons
Lord Woolf and Baroness Boothroyd in 2001
Writing and reviewing opportunities
The Journal welcomes submissions from early career and established academics throughout the Commonwealth, including post-graduate students and Open University tutors. Contributions from other involved in Commonwealth law, such as practitioners, would also be encouraged. For further information, please read the Journal's submission guidelines.
The editors are always happy to discuss ideas for contributions to the Journal. You can contact them via email. The Journal is also currently looking to add to its list of peer-reviewers. If you are interested in joining the panel, please contact the editors.
If you are interested in writing specifically on law and religious studies, you may also want to consider submitting a case comment to the Open University's Project for Interdisciplinary Law and Religious Studies webpage.
---
Latest journal
If you would like to be notified when a new edition or article is published, please email us to be placed on our mailing list.
In addition to the full version, each document from JCLLE Volume 14 is available to download separately:
Articles
---
Law and Emotion Special Edition
---
Previous journals