This year's awards event was a brilliant celebration of achievements, success and academic excellence. We presented awards to exceptional students from The Open University Business and Law Schools, and postgraduate business alumni who have made an outstanding contribution to an organisation or society. 
Held at our Milton Keynes campus, the ceremony was our first face-to-face awards event since 2019 and offered the chance for many students and tutors to meet in-person for the first time, including a group of student Open Justice Award team winners. Guests were given a historical tour of the campus, a visit to the University's Digital Archive and a three-course lunch before the awards ceremony, followed by fizz and cake.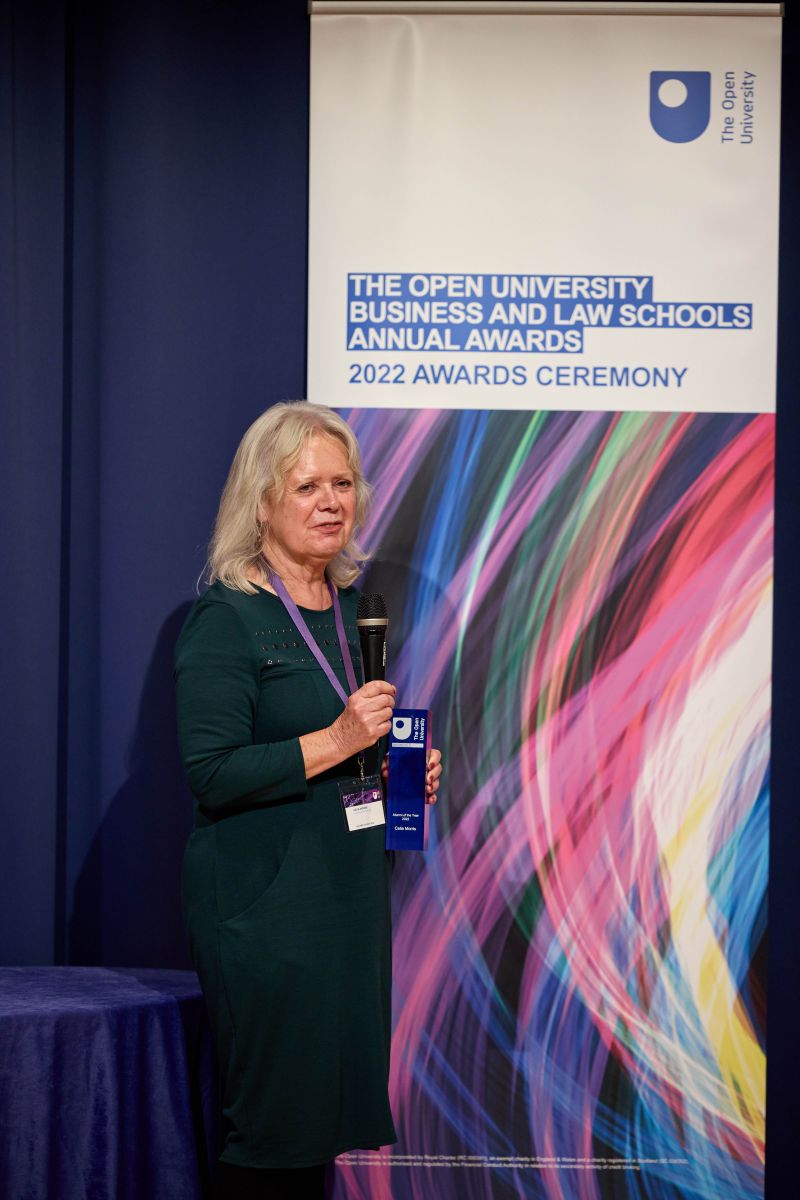 We were thrilled to have the chance to hear from individual winners as they took to the stage to collect their awards, with many praising the support from their tutors and peers, the flexibility offered by the OU and the quality of their learning material. 
Celia Morris, our Alumni of the Year 2022 winner, explained that her studies had changed her life. Formerly homeless, partially deaf and from a low-income, working-class background, Celia credits her OU qualification with turning her life around. "My MBA opened so many doors for me, giving me the opportunity to progress in my career and be able to support my family, as well as giving me a much-needed boost of confidence in my own abilities." 
We were also privileged to be joined by David Monk, our 2021 Alumni of the Year winner, who spoke about his experience of studying at the OU whilst juggling many other commitments, including his role as an NHS senior manager and volunteer work with St. John's Ambulance, throughout the pandemic. He spoke about his struggles with mental health and reminded us to pay attention to our own wellbeing warning signs and those of our loved ones, reiterating the importance of support in order to flourish. 
Carol Sherriff (Associate Dean, Student Experience and Teaching Delivery) was the master of ceremonies and tied the event together, while Siv Vangen (Head of the Business School), Kim Barker (Senior Lecturer in Law, Head of Department) and Martin Wardhaugh (Alumni Council Chair) presented awards to the winners and gave inspiring talks about their respective departments and passions. 
The winners were selected from thousands of candidates in dozens of countries for their outstanding academic achievements and are available to view on our celebratory Business School and Law School pages.
We are incredibly proud of our students and alumni. These awards are an inspiring reminder that there are dedicated, passionate and talented individuals out there who are committed to achieving their goals at The Open University, so it is a privilege to be able to celebrate together. I wish all our award winners the warmest congratulations and lots of luck for the future. 

Professor Siv Vangen
Head of the OU Business School
As OU students and alumni, you are part of the OU family. And as our most influential ambassadors, we hope that you will proudly fly the flag for us, spreading the word about your achievements at The Open University and the power of lifelong learning. Congratulations and please stay in touch!

Dr Kim Barker
Senior Lecturer in Law, Head of Department