The world was her oyster as recently-divorced Susan Desfontaines contemplated starting a new life with her 11-year-old daughter Pippa in the spring of 2011.
Six months later, and after discovering a lump and being diagnosed with an aggressive form of breast cancer, this rosy outlook soured. This was in November 2011 and prompted six rounds of chemotherapy throughout which Susan had to continue working to pay the bills. Even this stoicism came to an abrupt halt the following April when, on the brink of collapse, she was rushed into Milton Keynes University Hospital.
I promised my daughter I would survive ... it's been a tough journey at times but I've now been cancer free for five years and just graduated from The Open University!

When I was diagnosed, I decided to do something positive and to keep my mind busy by indulging my fascination with the law. I took a funded OU law foundation course with a tutor and I loved it so much that I began a full law degree in 2013, on a part-time basis.

My studies gave me something to look forward to, and to look into the future; to concentrate on something positive and life changing. I would take my books and laptop with me to the hospital; I never asked for an extension on an essay. This whole experience has helped my appreciation of life's little details but it has also taught me to go with the flow quite a lot; I certainly didn't envisage studying for a degree in my 40s for one thing.

Susan Desfontaines
All this coincided with the launch of her business development consultancy (Sebastian Consulting) which initially got off the ground through word of mouth and with no website or social media. Reconstruction surgery followed in 2014 with steely Susan 'back up and running' in a matter of weeks.
I was absolutely determined to get my own back on cancer – to use it to experience new things, and to fundraise vigorously together with the Milton Keynes University Hospital.
Now 51, Susan passed her O-levels and A-levels in the 1980s and had wanted to study a law qualification but did not have the opportunity back then.
I had to learn to study again after nearly 30 years. You have to be disciplined to do an OU course and I believe there's lots of kudos to a degree from the OU. Students, many working full-time, have to be determined to get good grades and really want to achieve. Often the graduates that are produced have a range of other skills to enhance what they have to offer future employers. The journey has also been full of amazing people that I wouldn't have met if it wasn't for my diagnosis.

A whole new world has opened up and all this is because I had cancer! It makes you make that change. If you think you can, you can. It's just a question of believing. You are at a crossroads and it spurs you on to do stuff you wouldn't ordinarily have tried, or even been able to do.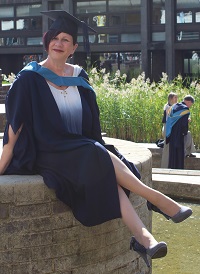 A great example is when she stepped in as an emergency substitute teacher to teach her daughter's A-level law class on a pro-bono basis! Another is that she has recently started working for a local authority in the prosecution of rogue landlords at magistrates' court.
Susan, who gained a distinction in the Justice in Action (W360) module, was nominated for the Open Justice Centre's outstanding contribution individual award at this year's Student and Alumni Awards. She praised the help and support she received from The Open University Law School, especially from Laura Platts, Hugh McFaul and Andrew Maxfield, and Milton Keynes University Hospital which not only helped her beat her illness but got behind her as she strived to focus on the future.
Susan was delighted to be joined by two of her 'study buddies' for the last six years, Simonetta Costa and Lornie Stokes-Pack, when they graduated together at a ceremony at the Barbican Centre in London on Saturday 21 September.
It's wonderful that we were able to celebrate this day together as we all graduated. Despite the OU being an online provider, we have nevertheless formed a friendship that will endure for many years. This is what you would expect at a traditional brick university but actually the OU has given us our university bonds of friendship in just the same way. This is another surprising aspect of university life that can be gained from the OU.
Pictured above: Susan Desfontaines (centre) with Simonetta Costa (left) and Lornie Stokes-Pack at the graduation ceremony at the Barbican Centre in London on Saturday 21 September.