Frequent political u-turns, climate disasters and other abnormal events that don't shock people any longer, amplified by the constant 24-hour news cycle, have become the norm in the 21st century.
The Executive Dean of the Business and Law Schools, Professor Devendra Kodwani, tried to make sense of it all in a lecture for Business and Law students recently. This new initiative took place in the Berrill Theatre and for an online audience via YouTube Live on Wednesday 20 November.
In the 'liquid modernity' lecture, a term coined by a late sociologist, Polish-born Zygmunt Bauman, in his reflections on modern society, Professor Kodwani said that the metaphor of liquid seems a fitting description of the world that we inhabit currently. This includes global concerns such as the vulnerability of some industries to artificial intelligence and climate fears affecting businesses.
Responsible management and certainty of purpose are required in this era of liquid modernity. Being a responsible manager means you have concerns for the climate; regard for human rights and dignity and diversity; humility and openness in your leadership; and fluidity in a company, with space for exploration and disruptive processes.
Professor Kodwani explained that the world is in the midst of massive population growth as people live longer. The decreasing mortality rate due to better nutrition and health provision and the fact that fewer children are being born than in previous generations means the world's current seven billion people will explode to an estimated 11 billion by the end of the century.
The changing demographics with more middle aged and older people and the transition from three to five generations in one family has social consequences. An example of a shrinking society is Japan where the current population is expected to fall dramatically to 75 million by the year 2100 from its current figure of 127 million.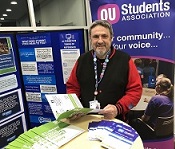 Using the mouth-watering example of ordering a chicken curry rice takeaway, he also emphasised the inter-dependent nature of the modern world. His case study mixed the real economy (the raw materials, and food preparation) and the platform economy (the use of digital technologies) and how to measure the carbon footprint of what we eat.
There were also stands from the OU Students Association, Student Recruitment and Support Centre (SRSC), and Careers and Employability Services (CES) for students to browse ahead of the lecture. Matt Porterfield (pictured right), who is the Faculty Association Rep (FAR) for the Business and Law Schools, is shown in front of the OU Students Association stand.