OU Law School students came from far and wide to benefit from an intensive weekend residential masterclass in street law from one of its gurus.
Street law, established in the 1970s, is where the law is made more accessible to secondary school pupils by students delivering sessions on topics such as human rights, social media law, and legal careers.
The collaboration between our Open Justice Centre, Middlesex University's School of Law and the Law Society of Ireland was a three-day training workshop from 17-19 October which focused on their presentation and teaching skills.
Street law pioneer Professor Rick Roe from Georgetown University in Washington – also known for writing an episode of children's favourite Sesame Street! – was the star attraction. Expert tuition was available to 25 Open Justice students who came from all over the country, while one even flew in from Rome for the weekend. They were accompanied by Hugh McFaul and Jon-Paul Knight from the Centre, with an identical number of students from hosts Middlesex also taking part.
What a confidence booster for our students who responded in a professional and enthusiastic way. They quickly developed really professional and improved styles of presenting and teaching skills over such a short time. It was also a great opportunity for both Jon-Paul and myself to spend time with our students in a productive setting.

Hugh McFaul
Lecturer in Law (Pro Bono Initiative)
Here's some of the glowing feedback from our Open Justice students who attended:
"I think the Street Law workshop has been the most valuable experience and connection with The Open University so far in my legal studies. This was my first time meeting other OU students and staff face-to-face, and it was great! I have learnt so much in just three days and I am very happy that I got the opportunity to do so."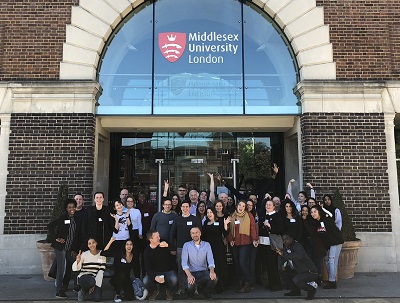 "The whole experience so far is extremely valuable to me. I appreciate and encourage the OU's latest decision of providing students with pro-bono opportunities in their final year."
"My most valuable experience or connection with The Open University so far is the exposure to a different way of thinking and the skill set you have to develop to be successful with your studies."
"I enjoyed meeting other students, not just from the OU, but from Middlesex University too. I surprised myself with how confident I became to be able to prepare and teach a short lesson with my partner. I was also able to take the feedback that I received and learn from it. I am very pleased that I was able to attend."