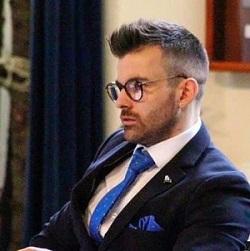 Harrie Austin-Jones has become the first ever Open University student to secure a place on the University of Oxford's world-renowned postgraduate law course.
The 29-year-old from Maidstone in Kent has beaten off fierce competition for the Oxford BCL (Bachelor of Civil Law), ahead of an anticipated start date at Keble College in September. The course attracts the best UK and international talent on an annual basis with 600 applicants whittled down to just 90 places. A tough application process involved Harrie producing an essay ('Guards on the Wall: The vital role of the courts in protecting Hong Kong against Chinese hegemony'), together with a personal statement, academic-focused CV and references.
I had tears in my eyes when I opened the letter saying I had been accepted and I genuinely didn't expect it. I owe so much to the OU as a whole, and particularly to my tutors (associate lecturers) as every one of them has provided inspiration and support. It's a huge achievement for both me and the University. I believe this shows the OU can match and be viewed in the same way as all other universities teaching law.

Harrie Austin-Jones
Final year OU Law student
His initial inspiration was television shows such as Suits, Silk and Kavanagh QC, complemented by a strong family connection. His mum Simone was a mature student at the University of Reading's School of Law in the early 2000s before becoming a law lecturer there herself. After graduating with a 2:1 in Politics with Economics from Loughborough University in 2012, Harrie joined the then family business Gray Plant Hire as the General Manager the following year. Some work experience at Reading's School of Law really whetted his appetite for studying Law, with the OU fitting the bill to pursue this ambition.
I achieved a good first degree but felt I hadn't quite fulfilled my potential. I just knew I wanted to study the law and The Open University seemed the best option, offering flexible part-time study. The course has been challenging at times and it's helped to be more mature than when you're 18. The OU recruits such high-quality teaching staff and I'd particularly like to thank two of my tutors, Joanna Kerr-Williams and Vicki Schipper, for opening my eyes to the different possibilities in the law. Vicki is a fantastic teacher and helps you really understand the law; she's probably had the most effect on me from anyone in my whole schooling.

Harrie Austin-Jones
Harrie is sad to be relinquishing his title of 'Master of Moots' for the OU Law Society, alongside female counterpart 'Mistress of Moots' Elise Graham, which saw them lead workshops and arrange a number of competitions. Partnered by Sarah Couling, Harrie won the OU's Gary Slapper Memorial internal competition, named after the former Head of the Law School. One of Harrie's references when he applied for Oxford was provided by Professor Simon Lee who incidentally authored 'Uneasy Ethics', the first legal book he had ever read!
Harrie's tutors speak highly of him and I was pleased to have a chance to discuss his application with him and then to act as a referee. The BCL at Oxford is iconic for academic lawyers and for judges throughout the common law world. I don't say that because I took it – I didn't but went instead to Yale for my LLM after my undergraduate degree at Oxford. The BCL is curiously named – it is a Masters but is called a Bachelor of Civil Law. It attracts excellent applicants from across the globe so it is wonderful that an Open University law student has joined the illustrious list of BCL students. Congratulations, Harrie!

Simon Lee
Professor of Law and Acting Head of the OU Law School