Dates

Thursday, August 18, 2022 -

13:30

to

18:00

Location

St Matthew's Conference Centre, London, SW1P 2BU and Online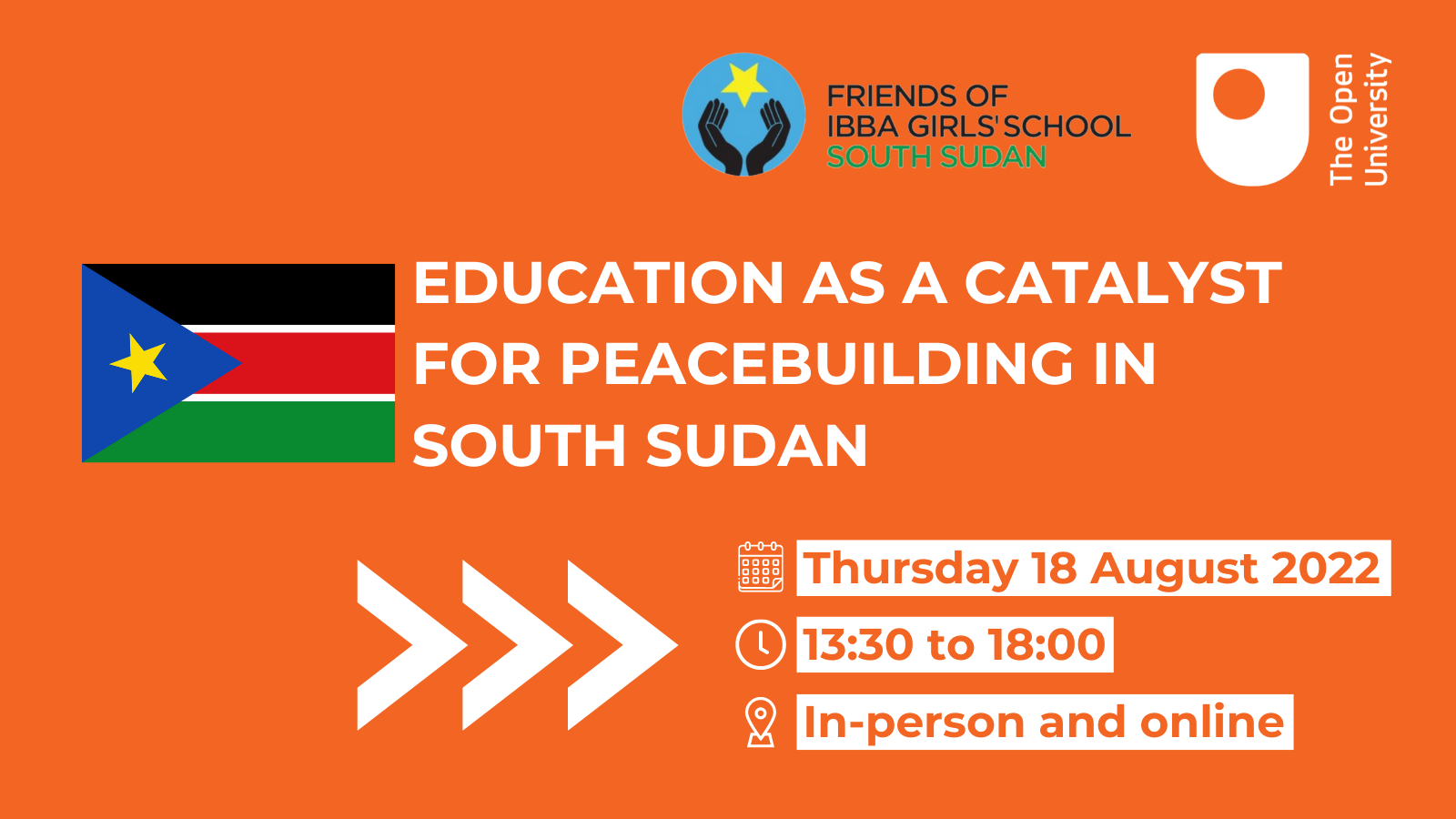 You are warmly invited to join us at St Matthew's Conference Centre in central London (SW1P 2BU) on 18th August for an afternoon exploring the vital role of education in building a peaceful future for South Sudan. We hope you can attend in person for the chance to meet these impressive speakers.  However, there is an option to join online for those unable to travel to London. 
At this event you will meet three courageous leaders from South Sudan who have come to London to discuss education as a catalyst for peacebuilding and development, and draw some wider lessons for the role of education in societies which are experiencing fragmentation and conflict.
The event is a collaboration between the Citizenship and Governance SRA of the Open University and the UK charity, Friends of Ibba Girls School (FIGS).
The prominent South Sudanese speakers on this important topic are:
Pia Philip is the most senior civil servant in the Ministry of Peacebuilding, which he established.  He was formerly the Minister of Education for Western Equatoria State, where Ibba Girls Boarding School is located and he was a founding trustee.
Archbishop Samuel Peni heads the Episcopal Church of South Sudan in Western Equatoria State and is a courageous advocate for peace and reconciliation – in the tradition of Desmond Tutu. Last year, he was co-opted as a trustee and governor of Ibba Girls School. 
Dr Agnes Oswaha is South Sudan Ambassador to the UK and Ireland.  
St Matthew's Conference Centre, London, SW1P 2BU is in walking distance of Parliament and Westminster Abbey.  A buffet lunch will be available from 1:30pm, and the speakers will be introduced at 2:30pm. Speaker contributions will be followed by Q&A, discussion, and a drinks reception from 5:00pm to 6:00pm. 
The online event will run from 2.30pm - 5pm.