By Dr Sam Woods-Peel
Visiting a court is like a rite of passage for a law student.
It is important to see courts and how the law you are learning in books actually works in real life!
As a law student I went to the Magistrates' Court in York and saw the sentencing of a 17 year old pregnant girl. Her crime was criminal damage…. to a Mars Bar. She had eaten it in the shop without paying for it. You could probably make out a charge of theft, but criminal damage would have been easier to prove, hence that particular charge.
But why charge her with it in the first place – surely it is too 'minor' to be worth charging? In general, perhaps, but this was not her first offence, by a long way. Law is, in many ways, grey and full of 'flexibility' thanks to our unwritten constitution, common law and equity, but some things are black and white.
Something is either illegal or not - something cannot be only a bit illegal. However small or cheap an item is, it can still be the basis of a criminal damage charge. What matters is the people involved, and that is only something you can get by going to a court and seeing the people involved in the court system. The defendant in that case had not learnt from her previous brushes with the law and charges were brought to escalate things – retribution, deterrence, rehabilitation. Whether it worked or not in her case I cannot say!
My last visit to a Magistrates' Court was far more recent. There was still the same mix of relatively minor offences and more serious ones, but again it was the people who mattered.
One woman in the waiting room was telling anyone who would listen that she was a builder who was in court on a charge of theft. She was at least 70 and definitely not a builder! What led to someone with obvious mental health concerns being charged, I wondered to myself. It is easy when reading law books to not see the people involved but only the crime – how could they do that?
When you attend court you can see the defendant and how they react to what is happening to them, and then you might feel differently. I was certainly very surprised many years ago on a visit to Chester Crown Court (on what turned out to be sexual offences day) to find myself feeling sympathy for the defendants. Charged with very serious offences, one defendant cut a very pathetic figure in the dock with his tiny, packed bag: he knew he was going to prison.
I knew then why some people went into criminal practice, to help people who need help whatever they had done, but I also knew it wasn't for me. I went into conveyancing. The point is a visit to a court, criminal or civil, can help illuminate the subject for you, but also help you with your career choices.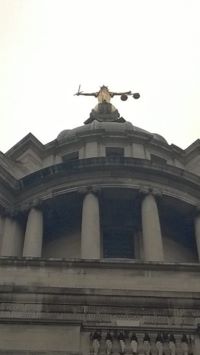 Justice must not only be done but seen to be done.
Now COVID is mostly behind us there is no reason why you cannot visit your local court. Try to go for a whole day to get a true flavour of what happens, and if you can, visit different courts.
Whichever court you go to, speak to a court usher and explain that you are a law student and would like to see the courts in action.
They will normally guide you to what court hearings you might find most interesting (sentencing or trial?) and where to sit for a good view of proceedings.  Have a pen and paper with you so you can note down your impressions, although if you want to do this in the court room it would be best to tell the usher you wish to do so, in case there are reporting restrictions in place. You don't need to dress up for the occasion but wear appropriate clothing, and do switch your phone off. You really don't want to be seen fiddling with your phone in court! 
Go and observe what happens in court and reflect on what you saw. It might just change the course of your life.
 Sam is a qualified solicitor and has a PhD in Maritime Law. She started tutoring for the OU in 2006 and became a Student Experience Manager in 2021.
Aside from her legal and teaching career she has done lots of other jobs that have added to her skill set. These include Archaeologist, Usherette in a theatre, reading the local papers of the South West as a Press Reader, and six scary weeks working in a pasty shop. She also volunteered for the National Trust running residential working holidays for 25 years.
Sam is a keen musician and plays oboe and trumpet in local orchestras. She is also a part-time student at the OU and has just finished her Open science degree. She has a keen interest in maritime archaeology, made her own long bow and has joined a local archery society!