A blog post by Teah Zdanowicz
In 2021, the Open Justice centre started to develop a virtual courtroom which will be used primarily to help students practice advocacy skills and familiarise them with the court environment. The aim of the virtual courtroom is to provide students with an immersive virtual environment which enables students to experience a modern courtroom within the online learning space. It follows a typical multiplayer first-person shooter game (FPS) design with 3D graphics, multiplayer interaction, and audio communication between users. It was designed in Unity which allows for the creation and operation of interactive 3D content, unlike full immersion VR it uses augmented reality through a virtual interface. Since the virtual courtroom allows students to interact with each other, the courtroom will be used for students to collaborate and practice their advocacy skills. 
However, there are also several other possibilities for our virtual courtroom technology. There are many people who do not qualify for legal aid since the legal aid cuts in 2010, which means that they often represent themselves in court. This is referred to as a litigant in person (LP). Our virtual courtroom has the potential to be used to provide support to litigants in person with preparation for their court hearing. There are many free advice organisations already helping LPs, however using our technology LPs could become familiar with the court environment and procedure. We recognise the stress which many LPs face in this process and would like to make their experience with the courts more comfortable. It could also be used to facilitate training other professionals such as the police and social workers. Often those working in policing or social work will have to engage with the court system. Getting the chance to learn about the inner workings of the court would allow these professionals to develop a skill which is often forgotten about.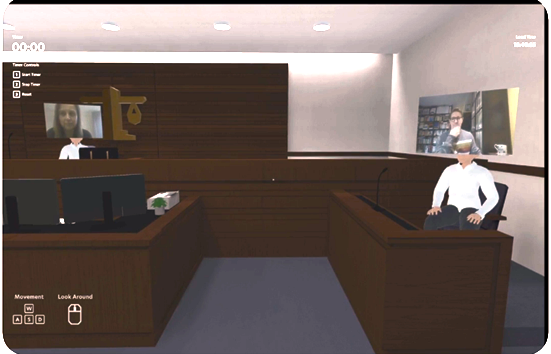 Since January 2023, I have been tasked with working on the virtual courtroom website which will be used to showcase the technology to interested parties. At the start of my internship, I had no previous experience of website design or using WordPress to create a website. Initially I was unsure how difficult a skill this would be to learn or what challenges I would face in the process. I decided that instead of focusing on what I didn't know, I would focus on the transferable skills I had developed in the past that could be applied here. For example, I could use previous research experience to expand my knowledge on the inner workings of WordPress or using problem solving/ computer skills I had developed while volunteering with the Criminal Justice Clinic where I learnt to use CLIO, a legal case management system. 
After doing some research on the basics of WordPress I decided to just get started and have a 'trial and error' mindset. If I do something and it doesn't work, then I can get just start over again (or use the convenient arrow that allows you to correct any mistakes effortlessly). One of the most important pages on the website is the homepage, it must be eye-catching and be able to get a person intrigued about the project. To do this I created graphic design images using CANVA in a comic book layout. The content within the images also serves to answer some of the questions an interested party may have about the virtual courtroom project. Throughout the process I used graphic design to display information in an interesting and readable manner in order to catch an individual's interest. 
After this part of website production, I then added 'about', 'research', 'media', 'blog' and 'contact' pages. I did this after thinking about what type of content the website should display and the information which needs to be conveyed to the audience. It was also important for me to consider who the audience for this website was so that I could tailor the information to key internal and external stakeholders, students or any other interested individuals. Another important element for me to consider when designing the website was the social justice mission of the Open Justice Centre. For example, making sure that people of all backgrounds are represented, or adding subtitles where possible to make the content accessible. 
Throughout the experience I learnt how important it is to ask for help. There were often times I would spend all day trying to upload a video or move writing on a page, which can often be frustrating. However, I was lucky to have the help of Jon-Paul and David who were on hand to help with the issues that I was having. Having their help enabled me to learn new website problem solving skills and how to overcome these sometimes simple, sometimes complex, issues. I now feel confident in my web design and know that in future project I will have the chance to use or apply these skills.  
The Virtual Courtroom website will be launched in October 2023
Bio:
Teah Zdanowicz is a recent Law School alumnus who worked as a virtual intern for the Open Justice Centre between January and July 2023.