Dates

Saturday, January 30, 2021 -

10:00

to

11:00

Location

Online with Student Hub Live

Contact

Student Hub Live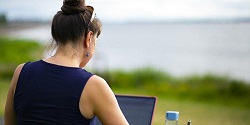 Learn how students learn at the OU!
Student Hub Live will show you around their virtual learning environment and take you through the important online resources you'll have access to, to support you on your study journey. They will also show you how to use forums to connect with your tutor group and other students and briefly explain how to submit and receive your assignments. Your module study planner is a useful resource for planning your weekly workload; in small groups Student Hub Live will talk through how to put it to good use. As well as familiarising you with the systems and processes you will encounter during your study journey, this session will be an opportunity to meet other students.
Four hundred tickets (with a limit of one per person) are available on a 'first come, first served' basis through Eventbrite. Subscribe at Student Hub Live if you would like to be notified about regisration and upcoming events.  
Important notice: This session is very tightly structured, starting promptly and finishing on time, with a strict programme of presentations and group activities. Please log in 15 minutes before the start, so that you can test your equipment and familiarise yourself with the online room.