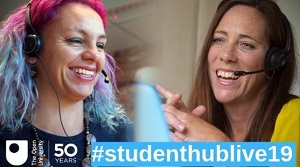 Communicating online may be very familiar to many people but effective online communication is something that often needs work.
What might be appropriate and understood in social media settings is unlikely to be appropriate in an academic setting.
In this workshop Student Hub Live (SHL) will look at some of the key skills involved in using online information for a purpose and how to communicate in a way that fits the need and shows your understanding.
Please note you will need to book a free ticket to attend this Adobe Connect Online Room event.
Tickets can be booked here. 
Visit the Student Hub Live website for more information.