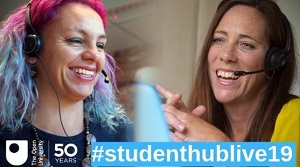 Writing academically demonstrates successful learning in higher education but it isn't always thought of as a skill in its own right.
In this interactive session, Student Hub Live (SHL) will look at some of the key features of academic writing and explain how you can develop your academic writing skills.
The team will give a tutor's impression of what constitutes good communication as well as a student's viewpoint on how to achieve this.
Please note you will need to book a free ticket to attend this Adobe Connect Online Room event.
This workshop will be held online twice.
To book the 11.00 - 12.00 workshop, click here.
To book the 19.00 - 20.00 workshop, click here.
Visit the Student Hub Live website for more information.