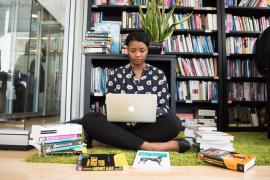 Procrastination can strike the best of us at the worst possible moments.
In this short workshop, Positive Psychology expert Jeni Sanderson will explore what procrastination looks like for you, share a few theories to get you thinking, and offer simple motivational tools you can implement straight away. Expect a bit of science, a bit of reflective thinking and lots of helpful ideas so you can pick what works for you and get cracking. 
Two hundred tickets (with a limit of one per person) are available on a 'first come, first served' basis through Eventbrite.  If you would like to be notified about future events, you can click the 'Follow' button.
Important note: This session is very tightly structured, starting promptly and finishing on time, with a strict programme of presentations and group activities.
Please log in 15 minutes before the start, so that you can test your equipment and familiarise yourself with the online room.