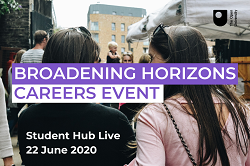 Did you know that 86% of graduate employers are more interested in a potential employee's qualities and skills than the subject they studied?
Perhaps the COVID-19 pandemic is changing your plans for the future or you'd like to know what employers are saying about where things go from here.
There are existing roles and ones yet to be created that could perfectly match your passions and talents… but how do you find out what they are?
Get started, and broaden your horizons in this varied half-day programme. Students from all faculties, courses and qualifications are invited to join faculty guests and OU career consultants to investigate four themes: people-focused careers; innovation and entrepreneurship; how digital technology is transforming the world of work; and education sector roles.
There will also be short, "in a nutshell" career-confident skills sessions covering CVs, assessment centres, interviews and tools to help plan your future.
Please note that this event is scheduled to start at 9:30am and will run until 12:30pm.
Book a free ticket to attend on OpportunityHub.