CJ talks on Radio Four about turning her life around
April 2019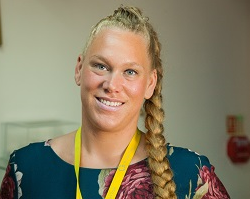 First-class Law graduate CJ Burge was in prison when she earned her degree from The Open University. She now works for the St Giles Trust which collaborates with the Law School's Open Justice Centre on prison education, as well as being a trustee of the Criminal Justice Alliance.
CJ was heavily pregnant when she was imprisoned in Japan for drug trafficking. After being transferred to the UK to finish her sentence, she embarked on her OU study journey. With no internet or computer access, she had to handwrite every assignment.
She was recently interviewed by Alan Rusbridger, former editor of The Guardian, about the purposes of imprisonment on Radio Four's One to One.
Law Clinic gains further recognition at prestigious student awards
April 2019
The Open Justice Centre's Law Clinic has been shortlisted in the LawWorks and Attorney General Student Awards 2019. This is in the 'Best LegalTech Contribution' for the awards which recognise and celebrate the outstanding pro bono work undertaken by law schools and law students across the UK.
The awards are run by LawWorks with the support of the Attorney General, The Rt Hon Geoffrey Cox QC MP. The awards ceremony is at the House of Commons in the Members' Dining Room on Wednesday 1 May, hosted by His Honour Sir Robin Knowles CBE. The Attorney General will present the awards to the winners.
The Law Clinic offers free online legal advice led by OU students working collaboratively under the supervision of qualified solicitors. It was also highly commended at the LawWorks Annual Pro Bono Awards in early December 2018 in the 'Best new pro bono activity' category.
LawWorks is a charity committed to enabling access to justice through free legal advice. The judging panel for the LawWorks and Attorney General Student Awards are:
Christina Blacklaws – President, Law Society
Peter Farr – Trustee, CILEx Pro Bono Trust
James Harper – Executive Sponsor, Rule of Law and CSR for LexisNexis UK & Ireland
Joshua Richman – Senior Editor, LawCareers.Net
Leanne Targett-Parker – Chair, Bar Council Pro Bono Committee
Open Justice wins an Open University Teaching Award
March 2019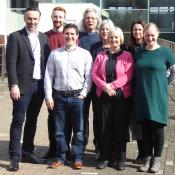 The Law School, which has fewer academics than any other school, has won two of the eight OU Teaching Awards (OUTAs) 2019. Both winners, the Open Justice Centre and Stephanie Pywell, have also been nominated by the OU for awards from the recently-formed Advance HE.
The Open Justice Centre won a Team Teaching Award for Excellence in Employability. Open Justice projects provide the opportunity for OU Law students to put their legal skills into practice to support their communities. These include a unique online advice clinic, UK-wide legal workshops in prisons and schools, court-based legal support projects, and the development of new legal technology applications to improve access to legal information, advice and guidance.
Liz Marr, Interim Pro-Vice-Chancellor (Students), said:
"The panel felt that this was an inspiring project which demonstrated an exciting set of initiatives …….. A model OUTA submission which ticked all the boxes."
The University has nominated the Centre for a Collaborative Award for Teaching Excellence (CATE) from Advance HE (formed in 2018 through a merger of the Equality Challenge Unit, the Higher Education Academy and the Leadership Foundation for Higher Education).
Open Justice expands its free legal advice to cover employment law
February 2019
Amid the current Brexit debate and a century on from the infamous Battle of George Square in Glasgow, the rights of workers is definitely still a hot topic.
Free advice on employment law is available from the OU Law School's Open Justice Centre from the start of February as its pro bono law clinic continues to expand.
The clinic, which was 'highly commended' in the recent LawWorks Annual Pro Bono Awards, provides free legal advice to the general public on a range of legal issues.
The ethos of our pro bono clinic is law students working with qualified solicitors to support members of the public to understand their legal rights. We're delighted to announce the expansion of our clinic to deliver free employment law advice. For anyone having problems at work, the ability to access free employment law advice is incredibly important as it can be an extremely anxious and distressing time.

Francine Ryan, Lecturer in Law and Director of the Open Justice Law Clinic
Coincidentally,  The Open University in Scotland is holding a centenary open learning event on Thursday 31 January (12:00 – 13:30) to mark one of the most intense riots in the history of Glasgow. The Battle of George Square, also known as 'Bloody Friday' and 'Black Friday', saw striking workers violently clash with the local police in 1919. This revolt on the Clyde, backed by widespread strike action, revolved around the length of the working week and a campaign for shorter working hours.
Please visit here if you want to find out more about the legal advice available from the Open Justice Centre's Law Clinic.
Unlocking Potential Event 2018 - the transformative power of education in prisons
October 2018
The Open Justice Centre and St Giles Trust attended an evening event at the Open University in October 2018 that brought together leading academics, practitioners and students from the Open University, St Giles Trust and Cambridge University -  all keen to share their research and experiences with a wider audience. It was followed by a question panel chaired by former Justice Minister (England), Sir Simon Hughes, to discuss this crucially important topic in the 21st century.
Hugh McFaul from the Open Justice Centre and Maria McNicholl from St Giles Trust talk about their ongoing collaborative work.
C.J Burge - OU Law alumni and SOS+ Project Manager at St Giles Trust talks about her experience of studying in prison.
Open Justice in the Open University Annual Report
December 2018
The Open Justice Centre features in the 2017/2018 Open University Annual Report
Law Clinic 'highly commended' at prestigious pro bono awards
December 2018
The Open University (OU) Law School's Open Justice Centre's Law Clinic is toasting its success at the LawWorks Annual Pro Bono Awards on Monday night (3 December 2018).
The Law Clinic, which offers free online legal advice led by OU students working collaboratively under the supervision of qualified solicitors, was highly commended in the 'Best new pro bono activity' category.
More than 250 finalists and guests from across the pro bono, advice, legal aid and charity sectors attended the awards evening at the Law Society in London. David Lammy MP, a vocal and successful campaigner for social justice, delivered the annual lecture and the event was hosted by radio and television presenter, producer and writer Matthew Stadlen.
The Open Justice Centre was represented by Keren Lloyd Bright who has responsibility for the prison projects, associate lecturer Andrew Maxfield who teaches on the 'W360: Justice in Action' module and Law alumnus Ken Ragon-Chambers who works as a student adviser in the Law Clinic.
The category winner was St Hilda's East Legal Advice Clinic, while Working Families' pro bono email ticketing platform was also highly commended.
This accolade is wonderful recognition for everyone's hard work since the Law Clinic was launched in September 2017. We were delighted to be shortlisted and then to receive this commendation in such a tough category with some great competition is fantastic news.

The Law Clinic has already seen 50 of our very own law students offer free online advice sessions, supervised by qualified solicitors, to help the general public resolve their particular legal issue. These can range from contractual disputes to clinical negligence, civil litigation to building claims, and consumer rights to small claims. This helps promote the concept of 'Open Justice' with the Centre going from strength to strength since it was launched a little more than two years ago.

Francine Ryan, Lecturer in Law and member of the Open Justice Centre
LawWorks is a charity committed to enabling access to justice through free legal advice. The judging panel for the awards, sponsored by LexisNexis, was:
Adele Edwin-Lamerton, Chair, Junior Lawyers Division.
Jeremy Miles AM, Counsel General for Wales.
Chris Minnoch, Operations Director, Legal Aid Practitioners Group.
Dame Janet Smith, Trustee, Access to Justice Foundation.
Paul Rogerson, Editor-in-chief, Law Society Gazette.
Open Justice Centre is improving lives through online learning for the advice sector
November 2018
The OU Law School's Open Justice Centre has developed a prototype online learning module in discrimination and human rights law training for charities.
This follows a five-month collaborative project earlier this year with AdviceUK, the UK's largest network of independent social welfare advice organisations, which was funded by a £67,000 grant from the Equality and Human Rights Commission (EHRC).
Law lecturers Hugh McFaul and Francine Ryan from the Open Justice Centre worked closely with Chilli Reid, Executive Director, and colleagues at AdviceUK on the 'Improving lives through online learning for the advice sector: Discrimination and Human Rights' project. They reviewed current training resources around discrimination and human rights law, and identified training needs for those working across the advice sector by engaging with a range of social welfare advice organisations.
This research informed the design of the prototype online learning module which comprises five hours of learning, developed by the OU's Learning and Teaching Innovation (LTI), which is now available as 'A practical guide to UK human rights and discrimination law'. All AdviceUK members have also received a briefing on discrimination and human rights resources.
Through the OU's expertise in developing open access learning, and thanks to the generous funding from the EHRC, this innovative collaboration will support the capacity of AdviceUK and its member organisations to address discrimination and human rights law issues.

The project will make a significant contribution to improving access to justice across the advice sector. The feedback we received during testing was very positive and encouraging; we're sure it will be a real support to these organisations.

Not only this, it offers the opportunity to act as an introductory course for the general public in these issues in a period of reduced access to free legal advice. It's designed for the mass market and we're hoping it will help many thousands of people over time.

Hugh McFaul and Francine Ryan, Open Justice Centre
A resource developed in conjunction with AdviceUK members themselves which can be used both for advisers and provides legal education to the public is very welcome. It opens up learning opportunities to a wide audience; supporting access to justice around discrimination and human rights.

Chilli Reid, AdviceUK's Executive Director
The Open Justice Centre hopes the success of this project will act as a catalyst for increased grant funding to develop further accessible resources for the wider advice sector.
Please contact AdviceUK if you would like more information about the UK's largest network of independent advice organisations, which has more than 650 members making up around 40% of the UK charitable advice sector.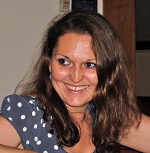 Open Justice Award Winners 2017-2018
October 2018
Six Law students have received an Open Justice Award for their contribution to pro bono. Lidia Dancu and Lucy Nguyen shared the Open Justice Centre's best individual contribution award, with Sharon O'Donnell, Lavinia Soobrayen, Christopher Stevens and Lindsey Porter winning the best group contribution award. The winners had taken part in Open Justice activities during the 17J presentation of 'W360: Justice in Action', making outstanding contributions to school-based legal education workshops and providing legal advice to the public in the Open Justice Clinic.
Open sesame! Street law pioneer from America passes on his expertise
November 2018
OU Law School students came from far and wide to benefit from an intensive weekend residential masterclass in street law from one of its gurus.
Street law, established in the 1970s, is where the law is made more accessible to secondary school pupils by students delivering sessions on topics such as human rights, social media law, and legal careers.
The collaboration between our Open Justice Centre, Middlesex University's School of Law and the Law Society of Ireland was a three-day training workshop from 17-19 October which focused on their presentation and teaching skills.
Street law pioneer Professor Rick Roe from Georgetown University in Washington – also known for writing an episode of children's favourite Sesame Street! – was the star attraction. Expert tuition was available to 25 Open Justice students who came from all over the country, while one even flew in from Rome for the weekend. They were accompanied by Hugh McFaul and Jon-Paul Knight from the Centre, with an identical number of students from hosts Middlesex also taking part.
What a confidence booster for our students who responded in a professional and enthusiastic way. They quickly developed really professional and improved styles of presenting and teaching skills over such a short time. It was also a great opportunity for both Jon-Paul and myself to spend time with our students in a productive setting.

Hugh McFaul, Lecturer in Law (Pro Bono Initiative)
Here's some of the glowing feedback from our Open Justice students who attended:
"I think the Street Law workshop has been the most valuable experience and connection with The Open University so far in my legal studies. This was my first time meeting other OU students and staff face-to-face, and it was great! I have learnt so much in just three days and I am very happy that I got the opportunity to do so."
"The whole experience so far is extremely valuable to me. I appreciate and encourage the OU's latest decision of providing students with pro-bono opportunities in their final year."
"My most valuable experience or connection with The Open University so far is the exposure to a different way of thinking and the skill set you have to develop to be successful with your studies."
"I enjoyed meeting other students, not just from the OU, but from Middlesex University too. I surprised myself with how confident I became to be able to prepare and teach a short lesson with my partner. I was also able to take the feedback that I received and learn from it. I am very pleased that I was able to attend."