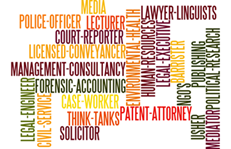 This forum will run from 10am on Monday 2nd July to 3pm on Friday 13th July 2018. 
You may already have some career ideas of what you're hoping to do with your Law degree (and qualifications that include Law) or you may be for looking for options – this forum is an opportunity to engage with OU Careers Consultants, with experienced practitioners within the legal sector and with other students to ask questions about your career interests or plans, to share your own relevant experiences or simply to find out more. We hope that you will be intrigued, interested and inspired!
See below some topics we will be discussing:
What are the wider options and advantages of a Law degree?

Tips and advice on becoming a Lawyer (Barrister, Solicitor)

Gaining legal work experience – what should you be doing?

Best practice for job applications and interviews

CILEx – could this be the route for you?